Our History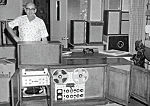 Founded in 1955 by Henry Peerson, Peerson Audio Incorporated has provided its clientele the finest in commercial audio, video, CCTV, sound and communications systems for more than 50 years. The business was established by designing, building and installing custom "hi-fi" systems in South Florida, and quickly expanded into contract installation of commercial audio and video systems for auditoriums, houses of worship, performance theaters, sports stadiums and arenas, corporate board rooms, schools, hotels, industrial complexes and public projects to include airport terminals, commission chambers and courthouses.
Peerson Audio is now owned and operated by Allen Peerson, who has virtually grown up "in the business" by working with his father, Henry, engineering, fabricating and installing systems. Allen enhanced his practical experience with a degree in Physics from the University of South Florida and then pursued graduate studies in Acoustics at the University of Texas in Austin. He is a member of the Acoustical Society of America, AES and NSCA, and holds a Specialty Electrical Contractor's license in the State of Florida.
Today, Peerson Audio utilizes the latest in computer-aided design and acoustic measurement procedures and techniques. As the business has grown substantially, we are now among the leading contractors in the southeastern United States in the fields of fabrication, installation, maintenance and service of commercial audio, video, CCTV, teleconferencing, sound and communications systems. As we are authorized dealers for most major commercial sound, communications and video equipment manufacturers, Peerson Audio can provide effective and affordable solutions for any system configuration or operational requirement.
Peerson Audio continues to serve the region with custom installation services, design / build proposals, as well as, comprehensive bid proposals based on existing designs. We utilize AutoCAD for system documentation and use EASE, Smaart and TEF audio analysis programs for system calibration, performance analysis and documentation. Our Service Department is staffed and "on call" seven days a week and can provide our clientele comprehensive Service and Maintenance Programs to insure their system is kept in proper working order long after installation. We are fully bondable, licensed, and insured.